Hey, y'all! I'm back from the dead! Well, sort of. We still have furniture to assemble and boxes to unpack, but I'm finally getting into a routine here and I've upgraded my status from "surviving" to "happy homemaker" (and by that, I mean dishes and laundry are being taken care of and the baby isn't crying at the moment...) Anyway, I absolutely HAVE TO tell you about
Bog Berry Dryer Balls
!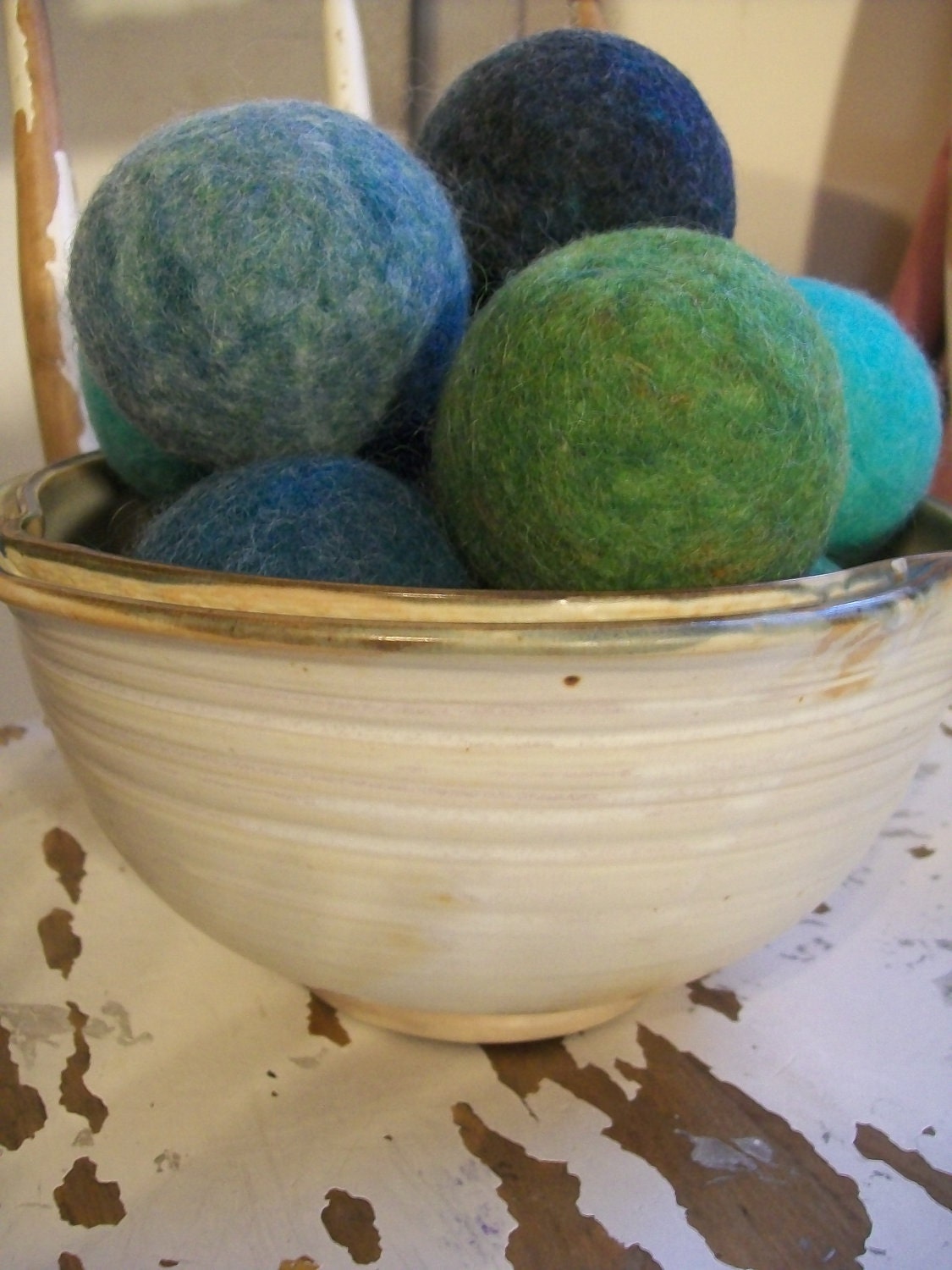 I have been curious about dryer balls since I started cloth diapering, but I was also a little too skeptical to invest any money in them. What was I so worried about?! Like a lot of things I've grown up with (e.g. household cleaners and medicine), I've been conditioned to believe that the "natural" alternative to dryer sheets wouldn't be effective or efficient. So, for the longest time I used nothing in my dryer with cloth diapers. (Dryer sheets leave a residue on fabric, causing diapers to repel instead of absorb.) I was beyond stoked when Brooke at
Bog Berry
agreed to sponsor me for the Merry Fluffy Christmas giveaway so I could FINALLY see what all the buzz was about dryer balls.
Before I moved, Brooke sent me 6 wool dryer balls to try out. I immediately noticed a difference in my diaper laundry. The microfiber inserts didn't cling anymore and it actually
did
reduce the drying time. I usually have to run the dryer twice to get everything completely dry, but to my surprise, they were done after one cycle. Woohoo!
FACT: I don't use liquid fabric softener or dryer sheets at all anymore. I just keep my dryer balls in the dryer and I'm good to go!
Why use Bog Berry wool dryer balls?
Bog Berry Dryer Balls are :

* the eco friendly alternative to dryer sheets

* biodegradable

* chemical free

* energy savers

* perfect toys for babies and pets....and adults! ( Do you juggle?!)

* NOT made of yarn

* great for scenting your drawers and closets

* excellent gifts for wedding and baby showers

* also decorative! They look marvelous in a pretty bowl on the table!
Brooke also helps support the local economy by purchasing her wool from a family farm in Lancaster County, PA and a small company in Maine.
What else can I get from Bog Berry?
Handmade Necklaces
Seed Bombs
Herb Blends
Tolkien-inspired Elf Cloaks
(How freakin adorable are these?!)
Where can I get these awesome homemade products?
Brooke's website
or her
Etsy store
.
Ooooor... You can win a set of dryer balls from me. Starting at midnight tonight!